2-Day Grand Canyon East and South Rim Tour from Las Vegas: Antelope Canyon, Lake Powell
Product Code: 531099
Departure Guranteed
The minimum number to operate the tour is 2 passengers.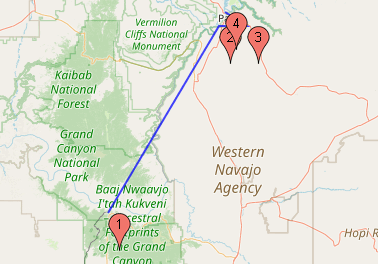 Highlights
• Grand Canyon (South Rim and East Rim)

• Antelope Canyon

• Lake Powell

• Horseshoe Bend
Group Type:

Small group

Take an intimate and semi-private trip with a small group
South Rim Grand Canyon - East Rim Grand Canyon - Horseshoe Bend - Page
Hotel: Best Western Page or similar
We begin the day by traveling to both the South Rim and the East Rim of the Grand Canyon (You may take a helicopter tour across Grand Canyon on your own expense). The view is just breathtaking and inspiring.

Drive to Horseshoe Bend next - named one of the top ten sites in America for photography by National Geographic! Standing by the edge, the view of glowing green water, blue sky, and reddish rock is spectacular. Stay overnight in Page.
Admission Fees
Activity
Price
Additional Information
Grand Canyon South Rim Helicopter Tour
$259.00/Person
Take off from South Rim and fly over the Grand Canyon for about 30min.
East&South Rim Grand Canyon+Lake Powell+Horseshoe Bay
$70.00/Person

Mandatory Fee

(No refund or exempt of Mandatory Fee unless visited attractions are closed.)
All mandatory fees must be paid in cash to the tour guide and tickets cannot be pre-purchased separatedly.
Any optional activities you wish to join must be paid to your tour guide in cash.
Antelope Canyon - Lake Powell - Las Vegas
The optional tour to Antelope Canyon is one of the top ten sites in the world for photography! It consists upper and lower canyons; the upper canyon is named for the Navajo word for "water through the rocks" and lower canyon's means "arch-shaped spiral rock." In here, visitors are always amazed by this wavy canyon rock formation, Mother Nature's Masterpiece.

Enjoy a scenic ride on the Colorado Plateau towards Lake Powell National Recreation Area, where you can take an optional boat tour on America's second largest man-made lake - Lake Powell, surrounded by 96 side canyons! Return to Las Vegas at 5:00 PM in the evening and finish our pleasant Grand Canyon and Antelope Canyon Tour.
Admission Fees
| Activity | Price | Additional Information |
| --- | --- | --- |
| Lake Powell Cruise | $55.00/Adult; $45.00/Child(5-10) | If you do not attend this optional tour, you can only see a small part of Lake Powell. |
| Lower Antelope Canyon | $90.00/Adult; $70.00/Child (4-12)/$20.00/Child (under4) (Including the Indian guide service fee and local transfer. Price may be adjusted again.) | |
All mandatory fees must be paid in cash to the tour guide and tickets cannot be pre-purchased separatedly.
Any optional activities you wish to join must be paid to your tour guide in cash.
| | | |
| --- | --- | --- |
| | Please note that order of day-to-day itinerary is adjustable depending on tour start day. | |
Search for your nearest pickup point
Package Includes
1-Night Hotel Accommodations
Ground transportation, vehicle type will be arranged per the number of passengers
Professional tour guide
Package Excludes
Airfares between your home and Las Vegas airport
All personal expenses including hotel room service and meals; however, you have the option to pay for meals the tour guide arranges
Service Fee for tour guide/bus driver (min. $12.00/day, per person)
Optional tours (Items and prices may vary due to the season and are subject to the final confirmation made by the tour guide when on tour.).
Cancellation and Amendment Policy :
Once confirmed, 10% of tour fee will not be refunded, if cancel within 17 or more days prior to the departure date.
50% penalty of the tour fee will not be refunded, if cancel within 10-16 days prior to the departure date.
Within 9 days(working day) prior to departure or cancel/change on trip: No refund
Please provide your flight information three days prior to departure. For all flights that are temporarily added or delayed, we do not guarantee to provide free pick-up service.
Due to different departure dates, the order of the itinerary may be changed. So the final itinerary is based on the confirmation.
You need to check in the hotel after 3:00pm. As these rooms are all "non-smoking" rooms, you will be fined more than $250 if you smoke in the room.
To make your travel more convenient, we suggest you book your tour one month prior to the departure date during the holiday season (New Year/Christmas).
Due to the popularity of these tours during the busy season, the overnight hotels may be fully booked. We will choose the hotels which offer similar standards of service as an alternative.
Las Vegas Tours do not permit travelers under 18, unaccompanied by a co-traveler 21 or older, to join. Travelers aged 18-21 who are unaccompanied by a co-traveler 21 or older can join the tour, however, they cannot gamble in Las Vegas.
We strongly recommend that passengers contact the airline and our local tour provider to confirm your flight arrival time, and request to arrange for a pick-up before your departure.
Flight information must be provided in order for the airport transfer services to be arranged. At our discretion, if flight information is not provided or provided last minute, your reservation will be noted as a self-transfer and no airport transfer services will be arranged. If you decide to self-transfer to the tour's first night's hotel, please inform us at your earliest convenience. If you opt out of a transfer service, you may reinstate the airport transfer service if notification to reinstate the service is given well in advance of the tour's departure. Urgent requests to reinstate airport transfer services will not be guaranteed. If a flight is delayed, Tours4fun/ local provider will attempt to arrange a later airport transfer service, however; this later service is not guaranteed. If an airport transfer service is not available and cannot be provided, all guests are responsible for self transferring to the tour's first night's hotel.

Please Note:
1. Guests are not allowed to use a CITY PASS and admission ticket purchased by themselves to join the sightseeing attractions included in this tour.
2. Guests who do use a CITY PASS or admission ticket purchased by themselves, will not be offered the transportation service for that day, and will possible need to pay a penalty fee. Please consult your tour guide for details.
Language: This tour is escorted by a professional bilingual tour guide and/or driver guide (English/Chinese). Tours and/or languages may be combined to operate this tour depending on the number of passengers who have booked a particular departure.
Bus Arrangement: Passengers on the same reservation will be arranged on the same bus unless stated otherwise. If you wish to be on the same bus as another party /an existing reservation, please note your request with the reservation number in the comment section on the checkout page or notify us at least 24 hours prior to tour departure.
Tours4Fun cooperates with top local area tour operators and ensures the best quality of services to all travelers. We provide tour coaches that all are insured with a liability insurance coverage from $5,000,000 to $10,000,000 to make sure that your trips are safer and more enjoyable.
The time we mentioned in the itinerary is for reference only. Please refer to your guide on tour for the actual arrangement. The visiting order and duration might be changed according to actual and practical situation for better service.
This tour/activity is overseen by a select local operator in the region. Upon booking your tour or activity and after receiving confirmation, you will be issued an e-ticket detailing the local operator's name and contact information. If you require assistance finding a specific tour, please contact us for more information.
Pricing Info
Your reservation is always subject to confirmation by email, normally within one to two business days.
*Price for Single Occupancy applies when one person stays in one standard hotel room.
*Price for Double/Triple/Quadruple Occupancy applies when two/three/four people stay in one standard hotel room respectively.
*Triple/Quadruple price does not guarantee a third/fourth bed in the room since each room is equipped with 2 beds. Please check the availability at the time of check-in.
*Maximum room capacity: 4 people including adult and child/infant.
*Additional fees may apply for travelers under 2 years of age. Please ensure you inform us when booking if you are travelling with infants 2 years or younger by placing the number of infants and their dates of birth in the comments section when booking online.
*The final tour rates already include possible booking fee, handling fee, and exchange rate loss.
Reservation Info
1.Immediately after submitting your reservation you will receive a Receipt of Reservation via email.

2. Within one to two business days of submitting your reservation you will receive a confirmation email from us. If you need to book an airline ticket, we recommend that you do so after you receive a confirmation of your tour reservation from us.

3. An E-Ticket will be sent to you via email as soon as details of your reservation are confirmed or your supporting information is received by us. We will provide you with all detailed information about your tour on the E-Ticket. Contact information for local tour provider will be included on E-Ticket for your convenience or re-confirmation purpose if re-confirmation is required.

4. Simply print your E-Ticket and present it with your valid photo ID on the day of your activity to your tour guide. Please remember E-Ticket is your proof of purchase.
Terms and Conditions
- Your purchase does not guarantee confirmation. Your purchase will initiate a reservation process. We will confirm with you via email within one to two business days.

- Prices may vary due to availability. We reserve the right to make price adjustment without prior notice.

- Local tour provider reserves the right to make modifications to tour arrangements including order of tour activities, hotel and its location if deemed necessary.
Edit Photo Title & Description
Loading……
We found 0 results matching your search
Questions previously answered may have different answers due to many reasons: season (date and year of travel), rates, availability, etc. Please check the Rewards4Fun Program FAQ for more information.
Cant find your answer? Ask us your question and we will respond within the next 24 hours.
Ask Us
Why Book with Tours4fun?
Best Price Guaranteed
Hand-picked Tours & Activities
24/7 Customer Support
Questions? 1-866-933-7368